Travel-Friendly Design
The SonaVERSE USB measures just 8.5" long, 2.25" wide, and 2" tall, which makes it compact enough so that you're able to take it with you while on the go. Since you don't need to bother with an AC power adapter or extra sound cables, it can fit in most compact laptop bags.
USB Cable for Digital Audio & Power
Connect a single USB cable to your computer to simultaneously pull power and digital audio for the speaker.
Note: Apple users may need to change the default audio output settings to the USB speaker in System Preferences.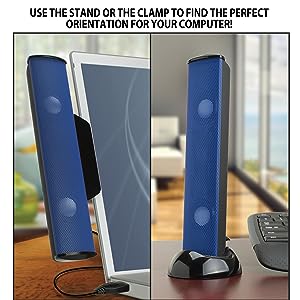 Includes Monitor Clip and Desk Stand
Option 1 - Monitor Clip: Use the clip-on clamp to mount directly on laptop screens that are up to ½ inch thick. Padded grips prevent scratching & ensure the speaker is secure.
Option 2 - Desk Stand: If you prefer a freestanding option for desks, use the included stand to prop the speaker up in either horizontal or vertical position.