Weather Clock
Weather Forecasting Digital Travel Alarm Clock with Wireless Outdoor Barometric Sensor..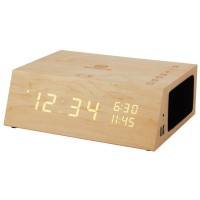 FM Radio, Dual Alarms, 3.5mm AUX, LED Display
The TYM Alarm Clock is a combination bluetooth wireless speaker and digital alarm clock radio. Ready to help you wake up, blast some music, and get to bed at a reasonable hour, the GOgroove Alarm Clock is the perfect addition to any bedroom, dorm, living room or guest room. Features bluetooth connectivity, dual alarm clocks, FM radio, USB charging ..