Premium Fabric Surface
A high quality fabric coats the surface of the mouse pad to provide a great feeling pad designed to have the benefits of both a hard mouse pad and a fabric mouse pad. Rigid base design offers stability and durability, while the fabric top ensures a comfortable and familiar texture.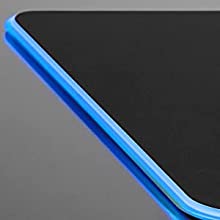 Frosted Semi-Opaque Edges
No one likes to stare into a diode hotspot, especially not during a gaming session. The frosted edges of the mouse pad dissipate the LED light emitted from the pad so that it creates a uniform, non-intrusive ambient light perfect for gaming desktop setups, at the office, or anywhere else.
Custom LED Lighting
Customize your gaming setup to match your mouse pad to your keyboard and mouse. Select from 7 solid LED colors (Blue, Red, Green, White, Purple, Cyan, Light Green) with 3 distinct brightness settings or choose from either a dynamic Rainbow effect or a Color Fading that cycles through all 7 colors.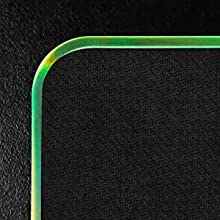 Non-Slip Rubberized Grip
Stability is incredibly important to gamers and designers who make sensitive small mouse adjustments. A textured grip covers the entirety of the back side of the mouse pad to ensure that it has a stable adherence to any surface including wood, glass, metal, plastic, and more.