Water Resistant Exterior
The water resistant exterior protects against moisture from water, drinks, and other liquid hazards. Have peace of mind when using our product, knowing your gear is in a safe place.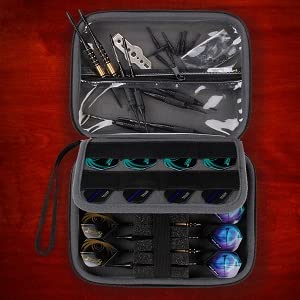 Spacious Interior
The Dart Case offers secure protection for steel tipped darts and soft tipped darts. With room for 16 dart flights, 8 assembled darts, and extra space for tips and barrels, you will have plenty of space for all of your dart essentials.
Travel Ready Design
Made from a rigid hard shell body with an all-purpose RipStop nylon exterior, our case provides resistance from scratches, impacts, and bumps. Use the attachable wrist strap for easy carrying.