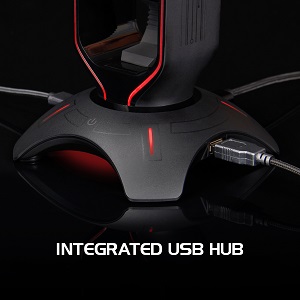 3 Port USB Hub
A built-in USB Hub allows you to easily and freely connect any other PC accessories without having to reach around your PC! One port is to power the stand and the other 2 can be used for gaming accessories such as mice, keyboards, flash drives, and much more all in one convenient location.

Dynamic LED Lighting
Select from 7 different colors (Blue, Red, Green, Yellow, White, Cyan, Purple) or select the color changing mode to customize your setup to match your gaming aesthetic.

Cable Organization
Instead of having to plug in your PC accessories into your physical PC, now you can plug in your accessories into the USB Hub in order to keep all of your cables organized and close to you. Utilize the mouse bungee in order to eliminate cable drag and to improve precision and accuracy.