Fits Desks between 10mm - 40mm
The headset hanger easily opens up to clamp onto desks between 10mm and 40mm. For the best fit and support, your desk should have 2.5 inches of area above and below the table for the silicone pads to rest upon. Easily clamps onto tables of all materials and types.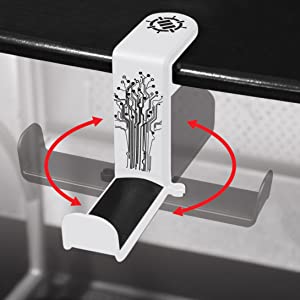 360 Degree Rotating Hook
Designed with a 360 rotating hook, our headset hanger allows you to keep your headset underneath your desk and out of the way OR swing around to the front for easy access to your audio.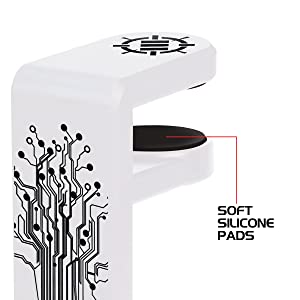 Soft Silicone Pads Eliminate Table Damage
Don't ruin your desk or table with sticky adhesives that leave residue or drill holes with bolts and hardware. Simply clamp on and off, and move it from your gaming desk to your coffee table, to your work desk in an instant.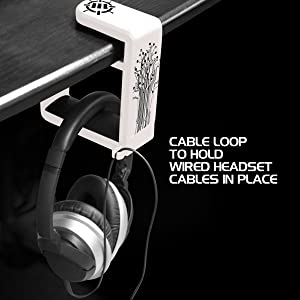 Organize & Manage Headset Cables
Run your headset's cable through the built in cable loop to prevent the cable from dragging on the floor and ensure your wires are neat and organized. The loop fits most headset cables including braided and reinforced cables.