Medium Firmness for Optimal Support
Firmer than memory foam wrist rests, yet still soft enough to provide comfortable support. By using a medium firmness profile, our gaming wrist rests provide ideal wrist support without that annoying sinking and heating up that "super soft" wrist rests have.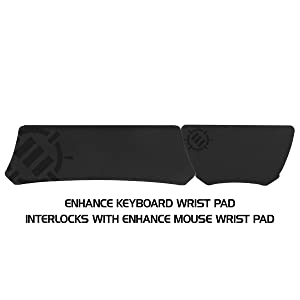 Interlocking Wrist Rest Design
The wrist rests feature a contoured interlocking design to combine our keyboard wrist rests with our gaming mouse wrist rest for seamless wrist support that spans the length of your gaming area. The design of the wrist rest also makes it tear and moisture resistant.
The Ideal Height for Gaming Keyboards
A 0.8 inch height provides the optimal support for most gaming keyboards. The firmness in combination with this height keeps your wrists in a neutral typing position for the long term health of your wrists whilst gaming.