Volunteers from Accessory Power were proud the participate in the
2017 Coastal Cleanup Day
September 16. Coastal Cleanup Day is one of the largest organized volunteer efforts, a global program that calls on volunteers from 112 countries. The event is always held on the third Saturday of September, and has been going on since 1990. In 2016 volunteers removed more some 18.3 million pounds of debris from beaches, streams and other waterways.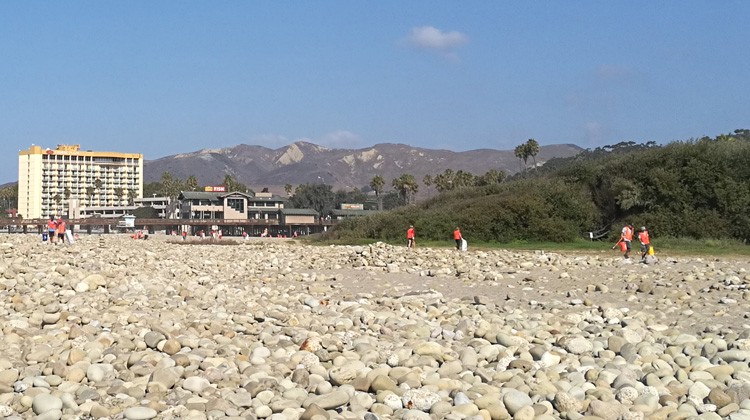 Our volunteers arrived early in the morning at Ventura to take part in the event. Organizers at the Surfrider station confided later that they had over 300 volunteers arrive at their station alone, which was one of many located along the coast of California.
The volunteers scoured the beaches and walkways for cigarette butts, plastic beverage bottles and food wrappers, traditionally the most common forms of debris found, though there was definitely a wide variety of other man-made trash to be found. For three hours the team cheerfully scoured the beaches, then met back up after the event to share a game of giant Jenga at local pizza place Tony's Pizzaria.
Thanks to all who participated!
About Coastal Cleanup Day
Heal the Bay organizes Coastal Cleanup Day in Los Angeles County in partnership with the California Coastal Commission. The L.A. campaign is part of a global international event led by the Ocean Conservancy.
About HEAL THE BAY
Heal the Bay is Southern California's leading nonprofit dedicated to protecting local beaches, oceans and watersheds. The organization has a 32-year track record of using sound science and community engagement to keep our coastline and inland neighborhoods clean and vibrant. The group issues water quality grades for more than 500 beaches each week, conducts monthly beach cleanups, educates thousands of underserved schoolchildren each year, and operates the Santa Monica Pier Aquarium, among many other programs.