About

ABOUT
COMMERCIALS
MEDIA COVERAGE
TRADE SHOWS
PRESS RELEASES
TUTORIALS
SOCIAL MEDIA
Accessory Power is a consumer electronics manufacturer dedicated to providing a diverse range of high quality products for over 30 years. Complete with 4 main brands, GOgroove audio accessories, USA Gear bags and mounting, ENHANCE gaming and lighting, and Revive charging and power, Accessory Power fits the needs of every customer, every market place, every time. With a superb understanding of the market, Accessory Power offers knowledgeable customer solutions, multi-lingual packaging and staff, offices and warehouses in US, Asia, and Europe, and an industry leading 3 Year Warranty on every product.
Our success as an organization has little to do with luck and good fortune, and rather everything to do with respect, hard work, dedication, passion, creativity, positivity, innovation, forward thinking, teamwork, attention to detail, preparation, persistence, tireless execution, humility, a good sense of humor, and the keen insight to identify individuals who have the ability to promote and exercise these same values day in and day out.
Company News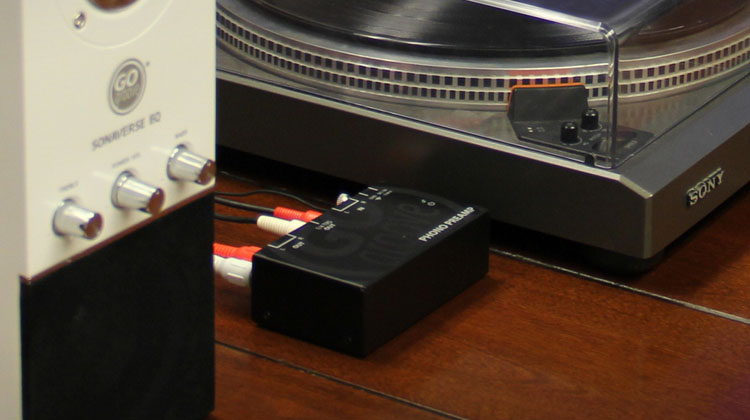 Did you know that vinyl records outsold CDs this year? According to the RIAA'...
Looking for the finest Accessory Power commercials and product introductions ever published on YouTube? Well, here they are, a playlist of our very best spots.
COMMERCIALS

USA GEAR | U Collection Camera Bags

ENHANCE | Gaming Line Introduction: "The Future of PC Gaming"

GOgroove | FlexSMART Series - "Secret Mission"

GOgroove | AudiOHM RNF Headphones -"For anywhere you GO"

GOgroove | BlueSYNC SBR - "Home is Where the Sound Is"

GOgroove | BlueSYNC RGD "For the Real World" OFFICIAL Launch Video

D&D Bag: Dungeon Master Travel Bag with Miniature Storage (2019)

USA GEAR | S17 - Product Features

USA GEAR | UBK - Product Features

NEW Computer Speakers: ENHANCE 2.1 LED Budget Speakers (2019)

ENHANCE Gaming Hub Bungee - Product Features

ENHANCE l 2.1 Speaker System - Product Features

ENHANCE l Headphone Mount - Product Features

GOgroove l Camera Backpack - Product Features

GOgroove l BassPULSE - Product Features

GOgroove l BlueSYNC STW Tower Speaker - Product Features

USA GEAR l Camera Harness Strap - Product Features

USA GEAR l SLR FlexSLEEVE - Product Features

USA GEAR l Hard Shell SLR Case - Product Features

USA GEAR l Digital Camera Backpack - Product Features
Media Coverage
The Kansas City Star review of GoGroove SonaVERSE UBR - Clear and crisp sou...
The Virginian-Pilot review of GOgroove SonaVERSE UBR
AndroidGuys Review of GOgroove RCV HD Bluetooth Receiver
Plug and play, LED color, pretty comfortable to move around and more!
Cult of Mac review of GOgroove AudioHM RNF Earbuds - High quality sound and stro...
Limited time. Use coupon code: GOGROOVE to get it for $39.99.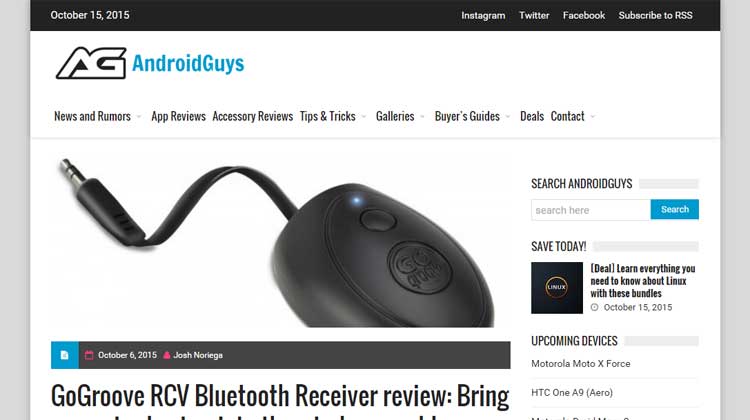 AndroidGuys review of GOgroove RCV Bluetooth - Wireless capability
ZDNEt mentioned on GOgroove water resistant Bluetooth speaker as one of The Best...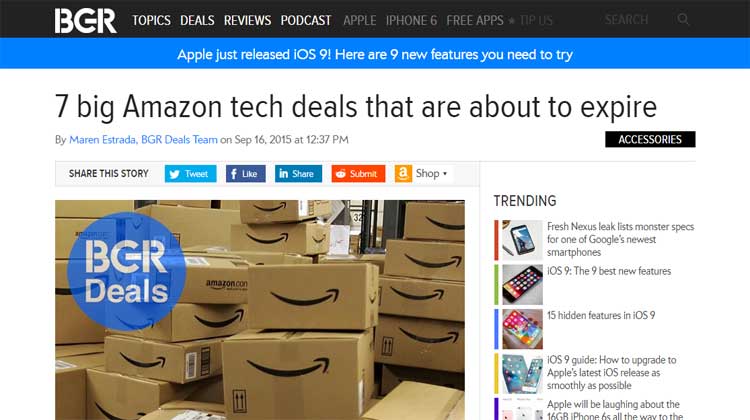 Great deal in Amazon to get GOgroove FlesXMART X2.
Kinja Deals mentioned on GOgroove FlexSMART X2 Bluettoth FM Transmitter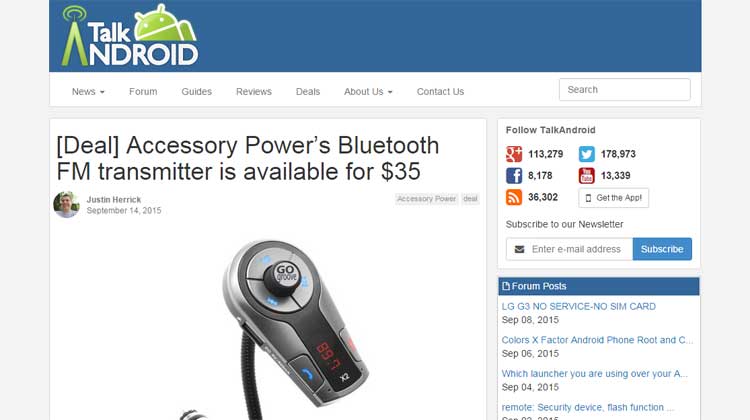 Get GOgroove FlexSMART X2 at an awesome price.
Don't miss the chance to get this spectacular featured set - High quality audio,...
Great deal on Amazon. Use coupon code: SAVEBLUE1 to get $25 off.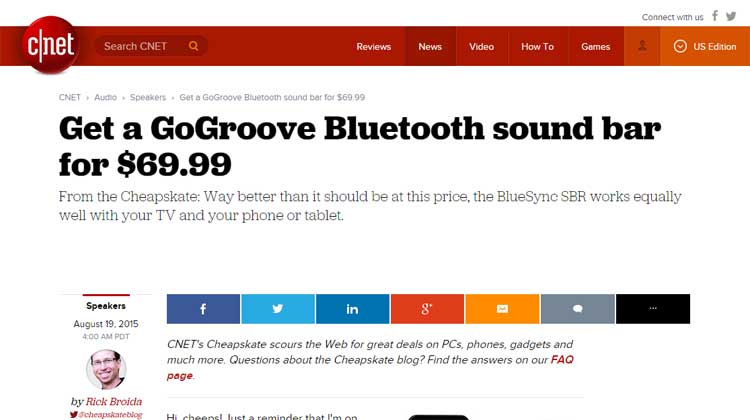 C|Net review of GOgroove BlueSYNC SBR Bluetooth Sound Bar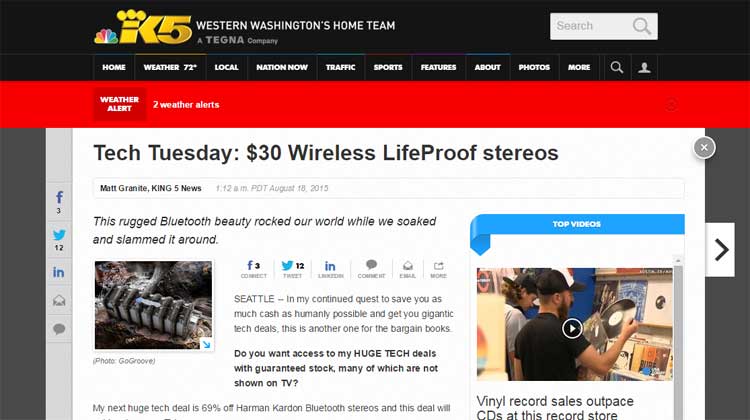 NBC KING Seattle review of GOgroove BlueSYNC
New design and more durable than typical earbuds.
Accessory Power announced that the new GOgroove AudiOHM RNF earbuds with lifetim...
The best deal to get GOgroove BlueSYNC BX Portable Speaker.
Amazing Daily Deal at Staples to get GOgroove Move L3D.
A little sound bar designed to clip to the top of your laptop screen and it's po...
Today only, Lowest Price Ever for GOgroove SonaVERSE USB
Don't worry, GOgroove Bluetooth FM Transmitter has the features that you car has...
GOgroove AudioHM RNF Earbuds are highly rugged.
Get this amazing speaker for just $19.99
it's not a soundbar, it's much more
3 different ways to listen to your music - Bluetooth, AUX Cable and MP3s. Now yo...
This amazing speaker has a perfect size to put on your desk or even to bring in ...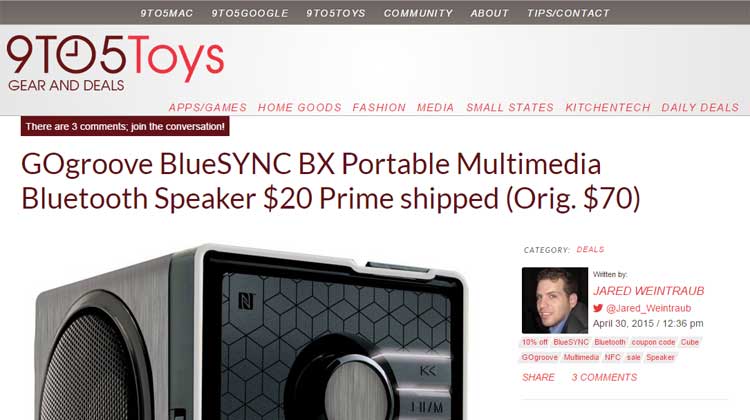 Great deal at Amazon.com - Get GOgroove BlueSYNC BX Portable Speaker for only $1...
Fantastic price for this Portable Multimedia Bluetooth Speaker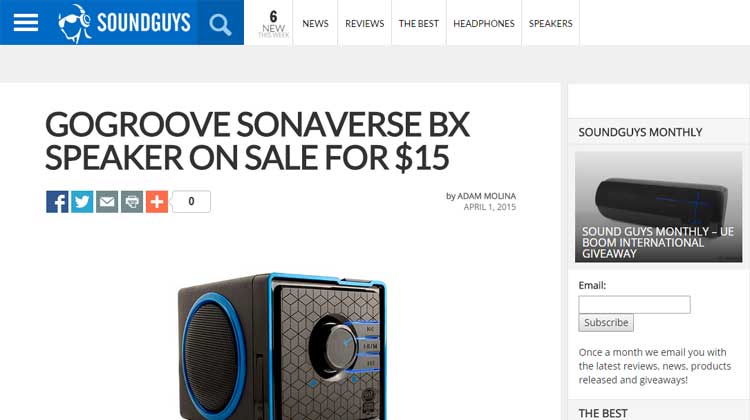 Through April 4th, GOgroove SonaVERSE BX speaker is on sale at Amazon.
Outstanding deal for GOgroove Sonaverse BX Portable Speaker.
c|Net mention on GOgroove BlueSYNC OR3 Portable Speaker.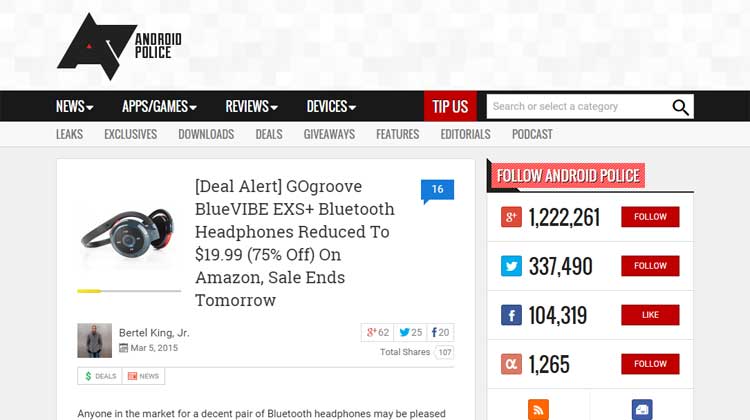 Android Police mentioned on GOgroove BlueVIBE EXS+ Headphones.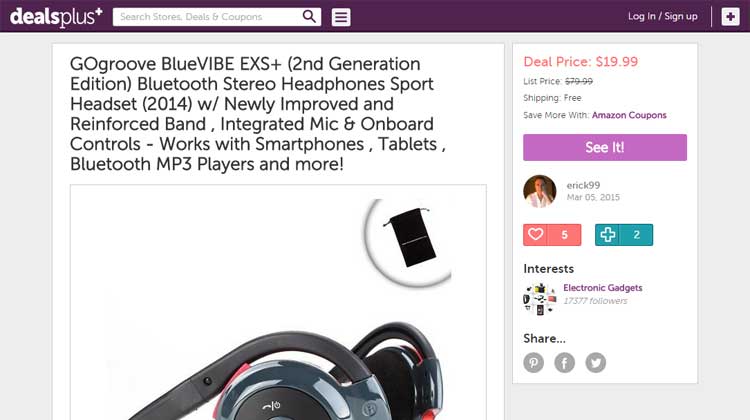 Newly Improved and Reinforced Band for Bluevibe EXS Headphones - SNUG FIT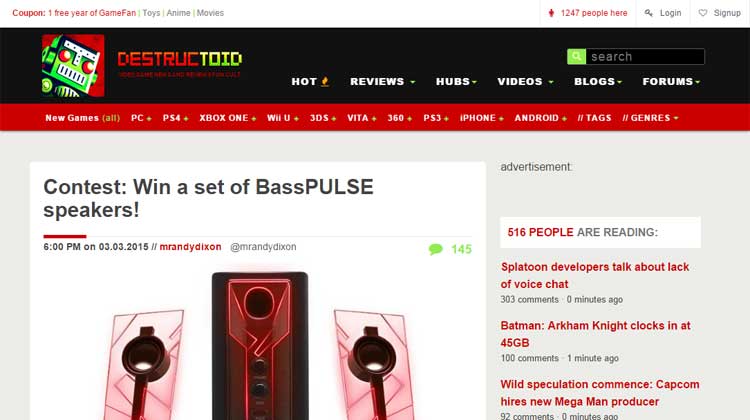 Destructoid Contest to win a set of GOgroove BassPULSE Speakers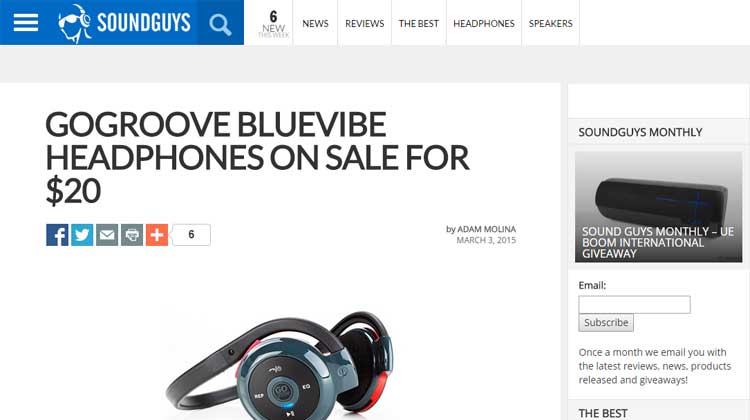 The most unique feature of this headphones is the support for MicroSD card, leav...
GOgroove has reconstructed the design of the earbuds. ULTRA DURABLE!
Everyone needs a portable Bluetooth Speaker. It is your chance to get one.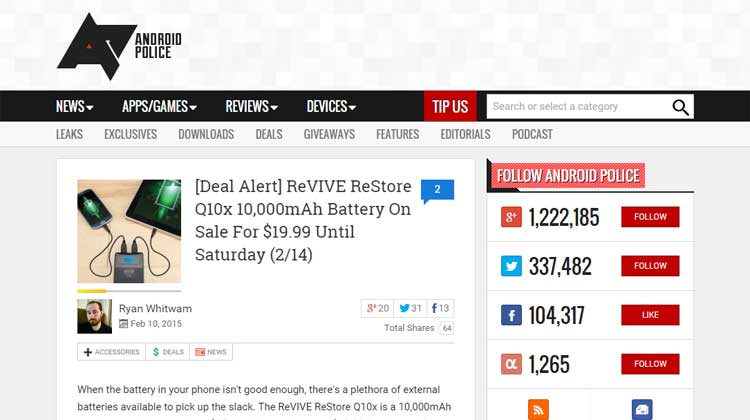 Android Police mentioned on ReVIVE ReStore Q10x, external battery to charge your...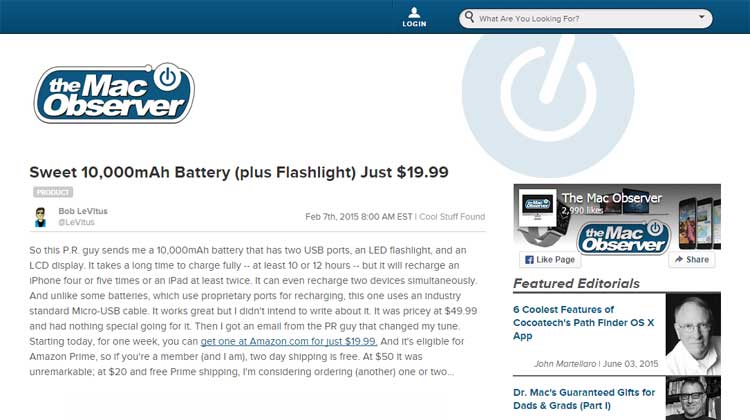 Get one at Amazon.com for only $19.99 this week - you can even charge two device...
Destructoid offer $10 off at GOgroove BassPULSE Speaker
In Ear Matters Review of GOgroove AudioHM RNF
Analog volumen dial, play/pause and tackskip buttons. Also, there is a microphon...
Rick Broida gives his take on the GOgroove BassPULSE
The videos on this page are culled from the last several years exhibiting at places like the Consumer Electronics Show (CES) in Las Vegas and Internationale Funkausstellung (IFA) in Berlin. Often we will ask tech reviewers to come and speak at these events, and we've included some of them in this list as well.
TRADE SHOWS

CES 2020 Opening Day Accessory Power

CES2020 - ENHANCE brand eSports Gaming Q&A with 8 bit Esports

LIVE from CES2020 Show Floor Day 3

LIVE from the show floor at CES2020 Closing Day

CES2019 ENHANCE Gaming eSports Teams

CES2019 Video Marketing Tech Talk from Day 4

CES2019 New Products and Prize Giveaway

CES2019 USA GEAR is LIVE from South Hall

CES 2018 ENHANCE Livestream

CES 2018 USA GEAR Livestream

CES 2018 Marlo Anderson Livestream

CES Live | Day 1: Gambit Magazine reviews the ENHANCE GX-K2 Gaming Keyboard

CES Live | Day 1: MoodBRIGHT LED Home Lighting Products

CES Live | Day 2: Matt Granite hands-on with the GOgroove FlexSMART X2 and RGD

CES Live | Day 2: Allison Shaw discusses hot innovation and tech with audience Q&A

CES Live | Day 2: Francie Black from Tech Time hosts CES Innovation Tech-Talk

CES Live | Day 3: Robert Fine introduces the GOgroove BlueVIBE FXT Water Resistant Headphones

CES Live | Day 3: ENHANCE Scoria 7.1 Surround Sound PC Gaming Headset with FPS Vibration

CES Live | Day 4: Accessory Power Flagship Brands Overview and New Product Debuts

CES Live | Day 4: Exclusive first-look at ENHANCE PC Computer Gaming Products

Accessory Power | "Packing Our Bags" For CES International

Accessory Power | Coolest TECH from CES Las Vegas

Accessory Power at CES 2014 Overview

IFA Berlin GOgroove Interview with Big Bang Forum
Press Releases
The high-tech crowd can hear it, see it, map it, drink it and (whee!). Take it f...
One of Accessory Power's top-selling brands, USA Gear, recently launched its ver...
The BassPULSE 5.1 is the newest addition to the GOgroove® product line and packs...
Accessory Power's leading product celebrates a milestone moment
Announcing the addition of many new products for the upcoming season. Featuri...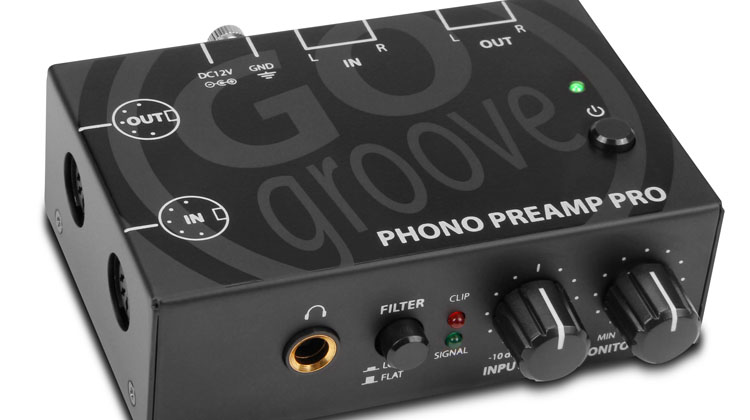 The preamp is a tool designed to boost your turntable's phono audio level up to ...
Designed with integrated wireless charging, the PowerUP mouse pads are built for...
Accessory Power's line of GOgroove® DSLR Camera Backpacks is the perfect item fo...
Designed for comfort and full-range detailed sound, the adjustable vibration eng...
Designed with a focus on gaming, the desktop microphone is ideal for chat, strea...
The first vibrating in-ear audio headset for use with multiple gaming platforms ...
Wired or wireless, big or small, the ENHANCE Gaming Line by Accessory Power cont...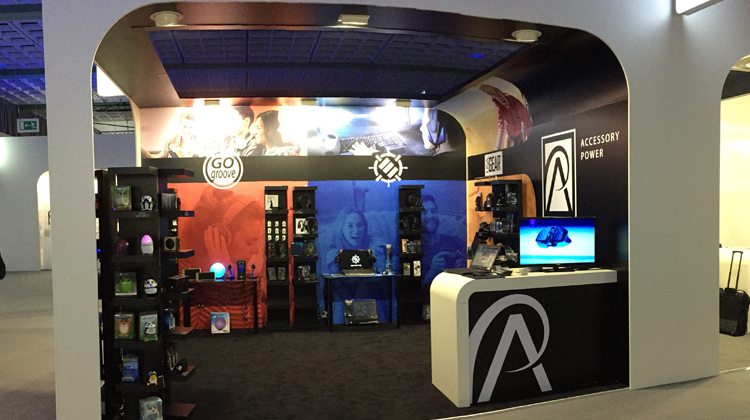 Fresh off of a successful CES Show earlier this year and expansions into new mar...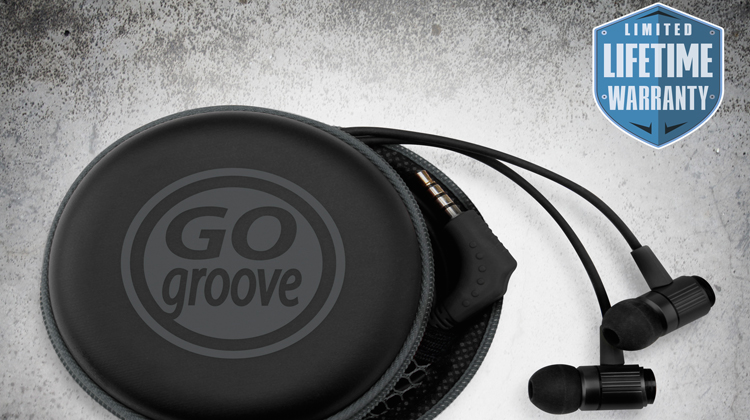 GOgroove's Patent Pending AudiOHM RNFs offer a high-quality listening experience...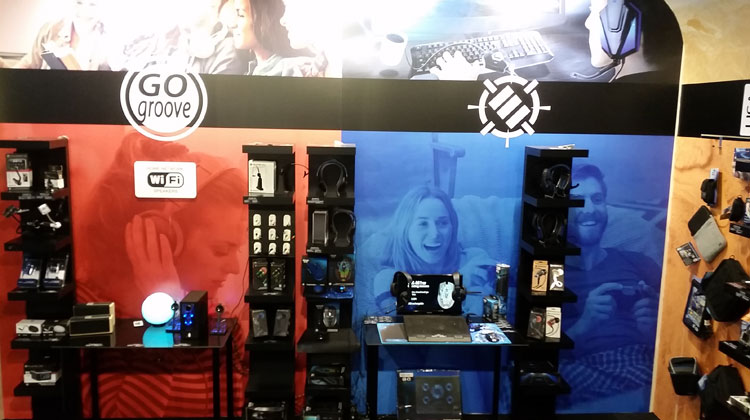 GOgroove by Accessory Power, the California-based manufacturer of consumer elect...
TUTORIALS

ENHANCE | GX-C1 Laptop Cooler Tutorial

USA GEAR Mask Kit Instruction Video

ENHANCE | Scoria Headset Tutorial

DATASTREAM | Sparkle Micro USB - Tutorial

GOgroove | FlexSMART X2 Barrel Upgrade

GOgroove | BlueVIBE FXT - Tutorial

GOgroove | SonaVERSE GS3 - Tutorial

USA Gear | S16 Camera Backpack - Tutorial

USA GEAR | S14 Protective Case - Tutorial

USA Gear | Phone Mount - Tutorial

USA GEAR | TrueSHOT Harness Strap - Tutorial

USA GEAR | TrueSHOT Wrist Strap - Tutorial

USA GEAR | Double Sling Strap - Tutorial

USA GEAR | Sling Strap - Tutorial

USA GEAR | TrueSHOT Media Strap - Tutorial

USA GEAR | DualGrip - Tutorial

USA GEAR | S13 Gaming Console Bag - Tutorial

USA GEAR | FlexARMOR Compact - Tutorial

USA GEAR | S1 Tripod Case - Tutorial

ReVIVE | ReStore VTL Tutorial: 3-in-one Versatile Camping Device

GOgroove | BlueSYNC RGD Tutorial

ReVIVE PowerUP NG5P Tutorial

USA Gear QIL - Product Introduction Video

USA Gear S3 - Product Introduction Video

USA Gear S16 - Product Introduction Video

USA Gear S15 - Product Introduction Video

Introduction to AudiOHM's

GOgroove BlueVIBE RLX - Product Introduction Video

GOgoove BlueVIBE AGL - Product Introduction Video

GOgoove BlueSYNC WUD - Product Introduction Video

GOgroove BlueGATE RXT - Product Introduction Video

GOgroove AudiOHM CFT - Product Introduction Video

GOgroove BlueSYNC XPL - Product Introduction Video

GOgroove Groove Pal KDZ - Product Introduction Video

GOgroove AudioLUX WDX - Product Introduction Video

GOgroove AudioLUX WD - Product Introduction Video

ReVIVE Solar Restore SL5000 - Product Introduction Video

GOgroove AudioLUX OE - Product Introduction Video

GOgroove SonaVERSE EDG - Product Introduction Video

GOgroove BlueGATE TRM - Product Introduction Video

GOgroove BlueGATE RCV - Product Introduction Video

USA Gear S4 Camera Bag - Product Introduction Video

GOgroove BlueVIBE DLX - Product Introduction Video

GOgroove SonaVERSE CLK - Product Introduction Video

Revive PowerUP Q4 - Product Introduction Video

GOgroove SonaVERSE CRS - Product Introduction Video

GOgroove BlueSYNC BR2 - Product Introduction Video

USA Gear QTL - Product Introduction Video

GOgroove SonaVERSE O2i - Product Introductions Video

GOgroove BlueSYNC DRM - Product Introduction Video