Product Support
Phono Preamp
Product Name:
Ultra Compact Phono Turntable Preamp with 12 Volt DC Adapter - Black
Model Number:
GGAAPPA100BKUS
Frequently Asked Questions

Connecting the Preamp to a turn table
Troubleshooting:
Please ensure you connect your turntable to the RCA IN ports L and R.

Where you able to connect your turntable?
Connect the ground wire from the turn table to the GND screw.

Is the ground wire about to be connected?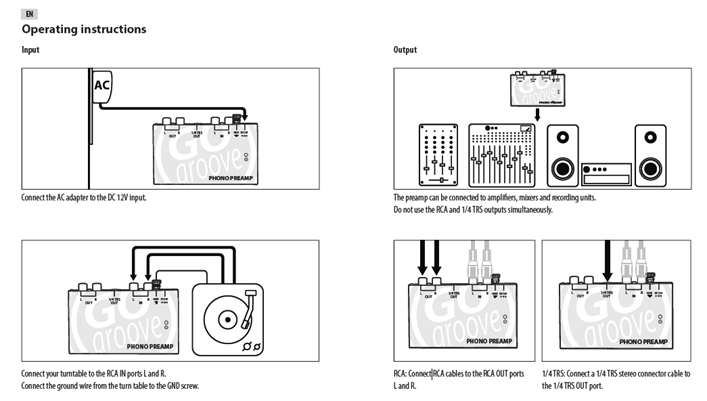 Please contact customer service if the troubleshooting above does not solve the problem.
How to eliminate static from the Preamp
Troubleshooting
Please ensure that the ground wire is securely wrapped around the GND screw. Keep turning the screw until you are able to wrap around your wire and tightly secure.

Is your ground cable tightly secured to your turntable?

Please make sure the record player does not already have a Preamp.

Does your turntable already have a preamp?

Static could mean there is bad power to your Preamp. Please try a different outlet for power?

Are you able to hear clear audio now?

There could be bad cables connected to the Preamp. Please try different input/output cables if the issue persists.

Does changing the cables help clear the static?
Please call Customer Support at 1.866.796.7324 should the troubleshooting not resolve the issue.
What is the need for the 1/4 TRS?
The 1/4 TRS output port on the Mini Phono Preamp is only for output to amplifier or powered speakers. It is not for use with a pair of headphones.
Product Videos

DOWNLOADS

Use the link(s) below to download software and manuals for your selected product.
Still Need Help?
If you've exhausted the above resources and haven't found what you are looking for, we've got you covered. Please login and register your product to get further support from our Customer Solutions department.