Product Support
USA Gear DualGRIP Neoprene Camera Strap
Product Name:
Stabilizing Neoprene Dual Grip Camera Strap with Metal Attachment by USA Gear - Black
Model Number:
GRCMDG0110BKEW
Frequently Asked Questions

Attaching the USA GEAR DUALGRIP to a camera
Attaching the DualGRIP to a camera:

First, as shown in the illustration above, connect the webbing buckle to your cameras strap attachment hook.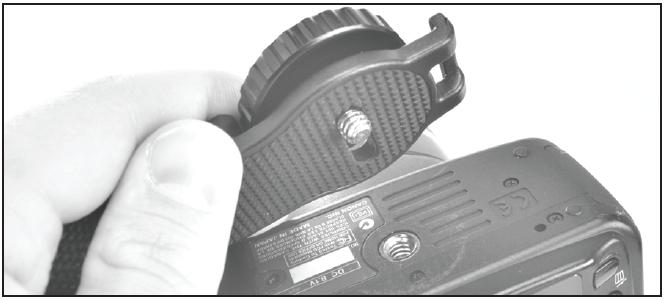 Next, insert the mount screw into the tripod mount of your camera (as shown above) and tighten down by turning clockwise.

** Note: Some cameras have LCD screens which swivel out, make sure for these camera types to position the mounting plate so that the lip on the mount clears the tab to pull out your screen.

Please contact customer service if the troubleshooting above does not solve the problem - support@accessorypower.com
Product Videos

DOWNLOADS

Use the link(s) below to download software and manuals for your selected product.
Still Need Help?
If you've exhausted the above resources and haven't found what you are looking for, we've got you covered. Please login and register your product to get further support from our Customer Solutions department.