Textured Rubber Backing
A textured rubber base that covers the entire backside. The textured rubber ensures that the playmat remains stable on metal, wood, glass and more, even during heavy movement when shuffling or playing.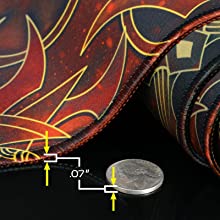 Compact and Durable
The playmat is compact to easily roll up and store in the included cloth storage bag. The stitched edges and strong rubber backing assures increased durability even with it's compact size.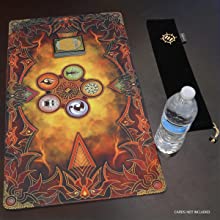 Sized for Easy Storage
Standard sizing to fit in the pouch and your bags with ease. No need to worry about bleeding onto other's table space, the perfect size for all your cards even on a big board without being inconvenient to carry.
ENHANCE Your Gear
Pair your ENHANCE Tabletop Card Game Backpack with our new playmat to have a sleek matching finish on your accessories and gear.