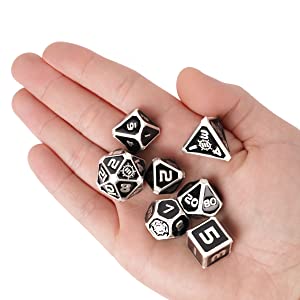 Fortify Your Character's Arsenal
A solid weight feel & easy-to-read numbers for every roll's hit or save. The gunmetal grey edges and enamel color fill design is meticulously handcrafted to match the aura in all your fantasy RPG games.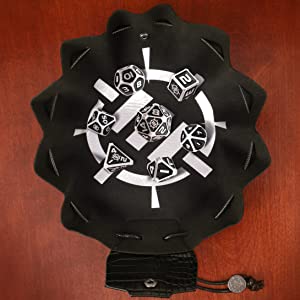 Dice Bag + Dice Tray in One
Each set comes bundled with a 2-in-1 Dragon Hide Satchel (vegan leather) that transforms from a gorgeous drawstring dice bag to an unfolded dice arena. It allows you to safely roll our hefty metal dice on top of any table surface.
Adventure Ready Metal Dice
Each of the dice (with the exception of the d4) has the ENHANCE logo as the highest face value on the die. For example, the d20 has our logo in place of the number 20, and so forth.