Built in Belt Loop
Keep your vape mod right at your waist by running your belt through the rugged loop on the backside of the case. This design ensures a superior hold capable of withstanding heavy use in both indoor and outdoor environments.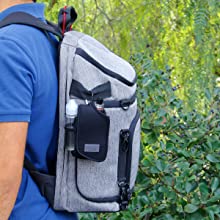 Carabiner Clip
Utilize the carabiner clip for convenient carrying by clipping to a bag, backpack, or purse. The clip is great for urban exploring and serves as a way to keep your vape accessible but still stored with the rest of your gear.
Flexible Fit
The sides of the vape holster feature a durable elastic fabric that conforms to the size of your vape mod, providing a firm and snug fit for most vape mods on the market. Stretches up to 2 inches in depth.
Practical Design
A durable exterior with padded, scratch resistant interior keeps your vape and accessories protected from the elements. The holster measures at 6 x 3.5 x 1 inches, and is large enough to store your vape mod, large e-juice bottle, and a few small accessories.