Durable Exterior
Made from heavy duty Ripstop nylon material, the S13 Console Travel Case is built to protect your console and accessories from bumps, minor drops, and abrasive damage during travel. The S13 was designed with a semi-rigid construction to provide extra protection and durability.
Shoulder Strap
Easily transport all of your PS4 or Xbox gaming gear with the built in heavy-duty carrying handle or go hands-free by using the padded shoulder strap. The shoulder strap can be removed and adjusted for comfortable carrying.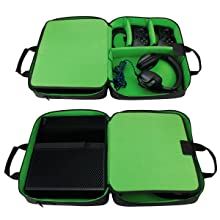 Organize Your Gear
The bi-fold design allows you to store your console in one protective compartment with a security strap, while the other compartment can be used to hold all sorts of gear including headsets, cables, games, controllers, and more.
Weather Resistant
The base is covered in a moisture resistant material that protects your console and accessories from water damage. Have peace of mind when traveling or storing your gear, knowing that our case will protect you console and accessories from unexpected weather, spills, or other elements.