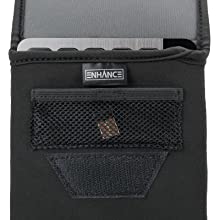 Mesh Accessory Pouch
A secure mesh netted pouch offers a convenient and secure storage space for your keyboard's cable or wireless adapter. This pouch prevents any damaging bends that may occur if the cable was stuffed inside of the main storage area.
Zippered Front Pocket
Store various accessories inside of the front zippered pocket such as wireless adapters for your gaming mouse, flash drives, compact mice, and much more. It serves as a convenient place to store small items you will need on your way to the next competition.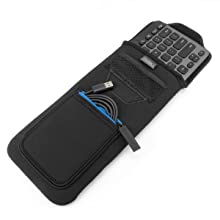 Protective Padded Sleeve
Made from incredibly durable neoprene, the ENHANCE Portable keyboard sleeve is both scratch resistant and impact resistant, making it ideal for protecting expensive or sensitive keyboards from the hazards of travel and daily wear-and-tear.
Fits Compact Keyboards
The Compact keyboard sleeve fits most bluetooth or compact keyboards up to 11 inches in length. The neoprene construction is flexible yet padded to allow for keyboard with various thicknesses and widths to fit.