Incredible Precision
An ultra-sleek neoprene surface with improved glide for your mouse while typing or gaming. Designed for accuracy and control while offering a soft comfortable surface for your hands and wrists.
Viral Pathogen Design
Sporting a "sick" virus design, the Pathogen MP2 is vibrant, eye-catching, and long lasting. A rich blend of deep black with vibrant colors will endure heavy daily use and is easily cleaned with a damp cloth.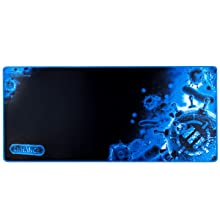 XXL Gaming Surface
With over a 433 square inches of space, the Pathogen MP2 can fit a full size keyboard, gaming mouse, cell phone, mouse bungee, and even your car keys with room to spare.
Non-Slip Rubber Grip
A textured rubber base that covers the entire backside. The textured rubber ensures that the mouse pad remains stable on metal, wood, glass and more, even during intense gaming sessions.