Large Surface Area
The massive surface area supports your mic, keyboard, and mouse. The vibrant optical fiber edges gives an awesome light display while also providing enough surface area to accommodate all of your gaming accessories.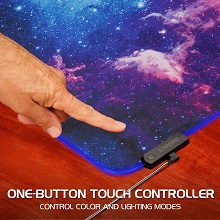 Smart Control Pad
With the smart pad controls, you can switch between 7 different colors and 3 different effects to accommodate your setup. Also, the smart pad remembers which color you left on previously after the pad powers off.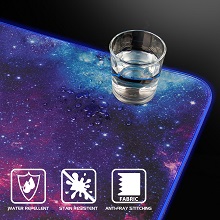 Water Resistant Fabric
The anti-fray stitching ensures that your pad will be long-lasting. Not to worry if you spill your water as the XXXL mouse pad is indeed water resistant.
Non-Slip Rubber Grip 
The textured and durable rubber base ensures that your pad does not move during long and intense gaming sessions. The pad will remain stable whether it is on wood, rubber, glass, or more!