5. Zabriskie Point
Zabriskie point is located in Death Valley, which from the sound of it, does not immediately sound like the kind of place you would want to visit. But rest assured: this place is breathtaking. The geography here mostly lends itself to sunrise and sunset shots, giving you the opportunity to play with the lighting and deep ridges (Catching golden hour also gives you an excuse not to be there mid-day in the sweltering heat.) There are some awesome opportunities for some astrophotography too! The thing to remember here is to not get caught out at noon in the middle of summer. Also watch out for snakes and scorpions.
4. California Redwoods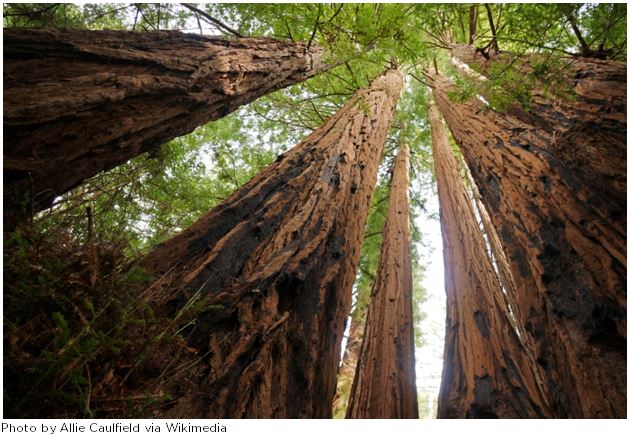 There's a myriad of opportunities to visit the redwoods of California's north coast. To be clear, this isn't just one grove, but a huge expanse of land to explore. Assuming you're not the type that just enjoys getting lost for awhile (guilty) then there are a couple honorable mentions to address:
Redwood National Park:
Located near the town of Crescent City, this is by far the most popular area for most photographers. Part of this is due to the wild rhododendron, a pink bloom flower with an incredibly short life. Set this against these 500+ year old trees and you have a recipe for some serious questions about existence. Plus coastal fog can make anything look incredible.
Del Norte Coast Redwoods State Park:
Since we haven't yet, let's visit the California beaches on this one. Five miles south of Crescent City along highway 101 is possibly one of the best stretches to blend redwoods, fog, and that awesome rhododendrons flower mentioned above. Bonus points for shooting at sunrise or sunset!
3. High Peaks Trail
High Peaks Trail is part of yet another national park called Pinnacles National Park. Fun Fact: Pinnacles is known for being one of the newest and smallest national parks. But make no mistake, there is plenty to see. If the above rock structures and vast landscapes here don't interest you, you could always see how you do with heights! It is called High Peaks Trail after all...
And yes, that is straight up.
2. Joshua Tree
This is the absolute go-to destination to photograph the Milky Way. If you have never tried your hand at astrophotography, this is definitely your first recommended destination. Joshua Tree is probably also one of the easiest tripod accessible spot on this list, and when photographing the night sky that is an absolute must. Like others, there are a few really interesting rock structures to see here. For alien landscapes you're going to want to check out Hidden Valley, Keys View, Cholla Cactus Garden, and Skull Rock. Bring a flashlight and illuminate these when you shoot. I guarantee you won't be sorry.
1. Yosemite National Park
"I have seen persons of emotional temperament stand with tearful eyes, spellbound and dumb with awe, as they got their first view of the Valley from Inspiration Point, overwhelmed in the sudden presence of the unspeakable, stupendous grandeur."
- Galen Clark, guardian of the Yosemite Grant
Okay, that quote is pretty elegant, but who wouldn't write like that when you're caught up in everything this park has to offer? There are so many photo opportunities here, but if I had to choose a top three, it would probably be the following:
Tunnel View:
Tunnel view is just off the road going into Yosemite, and by just off the road I mean it's actually a designated turnout. The standard view here presents El Capitan, Half Dome, and Bridal Veil Falls.
Sentinel Bridge:
There are so many views of Half Dome in Yosemite, and many interesting angles to find considering the geography. But I think Sentinel Bridge takes the cake. Pro Tip: At sunset, you'll get a nice illuminated view of Half Dome set behind a river surrounded in green foliage. Gorgeous.
Yosemite Falls:
Surprisingly enough, here is another landmark that has a ton of photo opportunities. My favorite though, is from the bridge beneath the falls where you can capture both the lower and upper falls in a single image. A word of warning: from this view you will get wet.
Although this is by no means a comprehensive guide to outdoor photography spots in California, I hope that it was at least informative. Hopefully you're feeling inspired, and have a new list of travel destinations for the near future. Now if you'll excuse me, I have some places to get lost in. Happy shooting!