Product Support
Infiltrate KL2 Gaming Keyboard
Product Name:
ENHANCE Infiltrate KL2 Membrane Gaming Keyboard - Black
Model Number:
ENINKL2100BKUS
Frequently Asked Questions

No power when Infiltrate KL2 Membrane Gaming Keyboard is plugged in
Troubleshooting:
While your computer is running, insert the USB plug. The drivers will automatically install; after being notified that the driver installation is complete, the keyboard is ready to use.

Does your computer recognize the keyboard?
Does it power on?

Try plugging the keyboard in to another USB port

Does changing to a different USB port power the keyboard on?

The USB connection cable may not be securely plugged into the active USB port, inspect and unplug then plug in

Does disconnecting the USB cord then reinserting the cord solve the problem?

Try restarting the computer with the keyboard plugged in.

Does your computer recognize the keyboard now?
If a recent Windows 10 update has caused your keyboard to no longer be recognized and/or does not power on, please try the following:
Run all available Windows 10 updates
Follow this link to check for updates official from Microsoft
Restart the computer without the keyboard plugged in
Once everything has rebooted, plug the keyboard back into a powered USB port

Wait for your computer to recognize the keyboard
Does it power on now?

If this still has not solve the issue, please contact Microsoft Customer Service
Key combinations for the Infiltrate KL2 Keyboard
Please see the many key combinations and functions on your Infiltrate KL2 Keyboard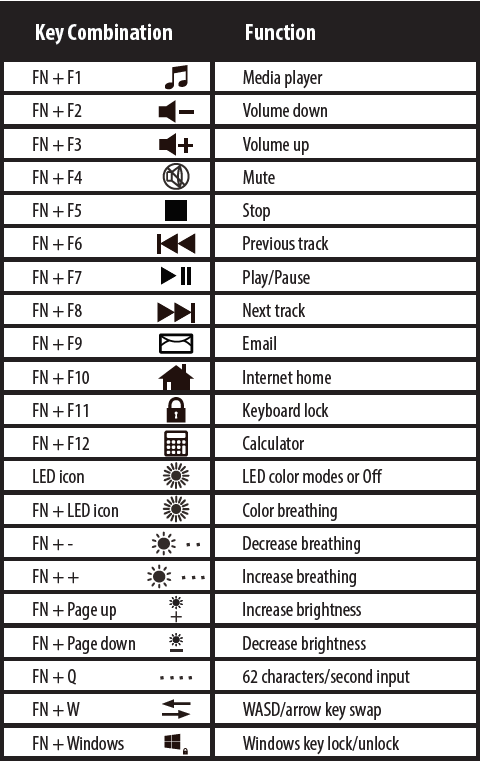 Infiltrate KL2 back lights do not work/won't turn on
Troubleshooting:
Your KL2 keyboard does have the option to turn the LED's ON/OFF
Try pressing the LED icon
See the Key Combinations list for the KL2 for further LED breathing modes
Product Videos

DOWNLOADS

Use the link(s) below to download software and manuals for your selected product.
Still Need Help?
If you've exhausted the above resources and haven't found what you are looking for, we've got you covered. Please login and register your product to get further support from our Customer Solutions department.