Product Support
USA Gear UBL Backpack
Product Name:
DSLR/SLR Camera Backpack with Laptop Compartment , Rain Cover & Lens Storage - Gray
Model Number:
GRULUBL100GYEW
Frequently Asked Questions

Features of the UBL Backpack
The storage dividers allow for you to customize your interior how you see fit
Large accessory pocket gives easy access to chargers, extra batteries, and anything else you can think of
Also, located on the side of the backpack is a tripod holder
This backpack also has a dedicated compartment exclusively for your laptop
This backpack comes with a rain cover that is located in the top pocket of the backpack, so no need to worry about your camera and gear getting severe water damage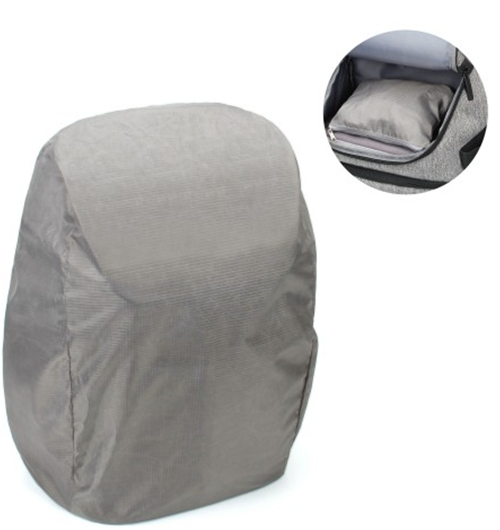 Adjustable waist/shoulder straps
Use the adjustable waist and shoulder straps to ensure great back support while lugging your camera equipment along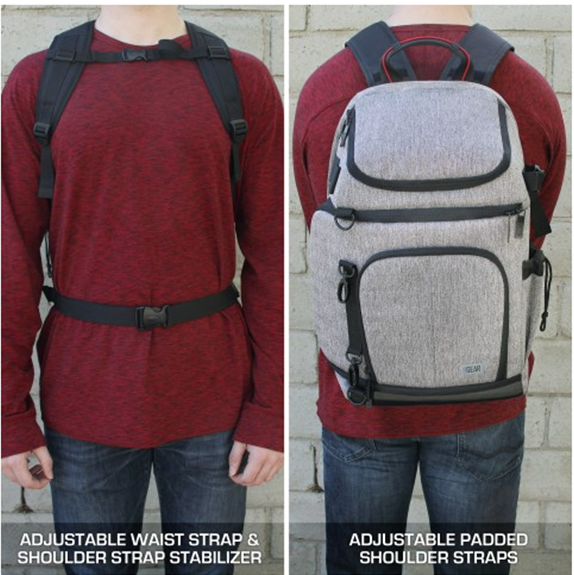 What cameras are compatible?
GREAT FOR:
CANON
EOS 80D , EOS 5DS , 5DS R , 7D Mark II , 1D X Mark II , 7D , 6D , 70D , Rebel T6s , T6 , T6i , Rebel T5 , T4i , T3i , T3 , T2i , SL1 , PowerShot SX540 HS , SX530 HS , SX510 HS , SX170 IS , SX60 Hs , G3 X , G1 X Mark II /
SONY
Cyber-Shot DSC-RX10 III , Alpha SLT-A68 , 7S II , 7R II , 7 II , 7S , A37 , A57 , A58 , A55 , A65 , A77 , A77 II , A99 , Cyber-shot DSC-RX10 II , H400 , H300 , H400V , RX10 , A330 , A380 , A390 , A450 , A500 , A550 , A560 , A580 /
NIKON
Coolpix B700 , 500 , D500 , D3300 , D3400 , D700 , 7200 , P900 , 610 , 600 , 530 , L840 , 830 /
PENTAX
K70 / K50 / K-S2
... plus many other cameras and equipment.
What is the backpack made out of?
What is the backpack made out of?
A durable exterior allows for your backpack to withstand the daily wear-and-tear
The breathable, padded back support ensures that even your longest days out with your camera equipment will feel light and free
Plus, the backpack comes with a weather resistant bottom just in case you set your backpack down on a wet spot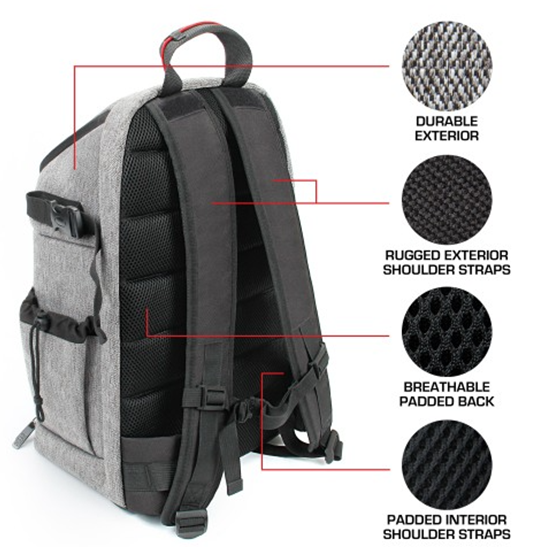 Product Videos

DOWNLOADS

Use the link(s) below to download software and manuals for your selected product.
Still Need Help?
If you've exhausted the above resources and haven't found what you are looking for, we've got you covered. Please login and register your product to get further support from our Customer Solutions department.