Exclusive: Character Sheet Scribe Panel
The Scribe Panel is a special divider with a built-in transparent protector that holds your character sheet...and can be used as a reusable writing surface with dry erase markers (sold separately). Use it to protect your Character Sheet against nasty eraser marks—a unique feature of the ENHANCE RPG Organizer Case.
Customize to Your Character's Needs
The right side of the Organizer includes a foam tray with 16 slots for miniature figures and a modular area with 2 adjustable dividers to custom-fit cards, dice, tokens, or other accessories.
Or remove the foam tray and dividers to make room for your copy of the Player's Handbook.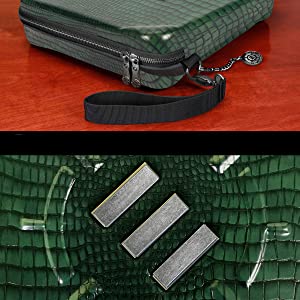 Gunmetal Color Themed Hardware
Thematically designed for your next fantasy adventure, the ENHANCE RPG Organizer Case features premium design accents that deliver on the quality that RPG players have come to love from the full line of ENHANCE Tabletop products.